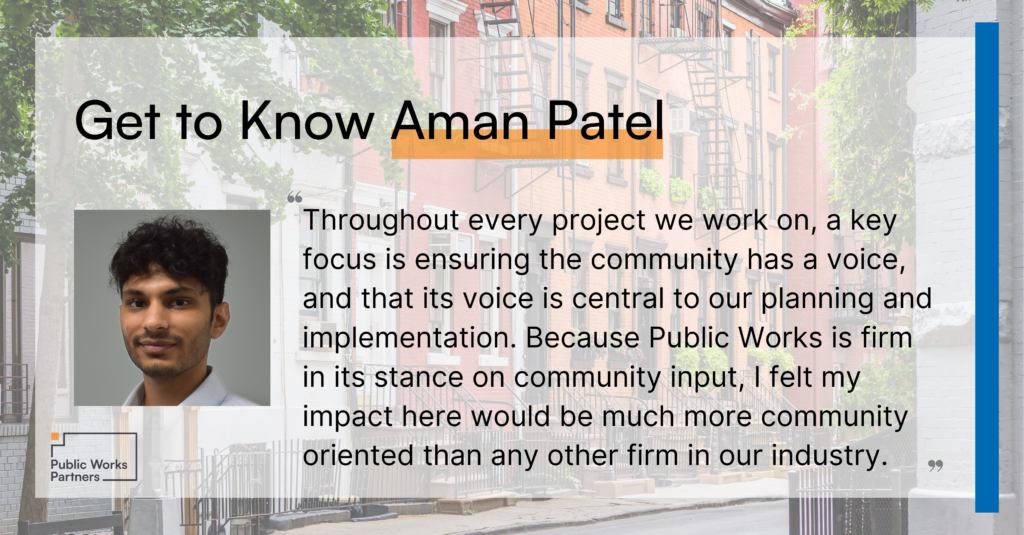 Aman's journey into urban planning was sparked during his undergraduate studies when he became involved with a housing organization that aimed to address the challenges of those in need. As a volunteer, he witnessed firsthand the profound impact urban planning and policy could have on people's lives. Now, Aman is a Project Coordinator with the Public Works team, where he plays a pivotal role in ensuring the successful execution of our community health projects. Here, Aman has found the perfect platform to channel his passion for urban planning and community-driven initiatives. As we shine a spotlight on Aman's passion for community health, we're reminded that true success lies not only in the achievements that we make, but also in the positive impact we leave on the lives of others.
1. What drew you to Public Works Partners?
The main reason I was drawn to Public Works Partners was the firm's focus on community voices. Throughout every project we work on, a key focus is ensuring the community has a voice, and that its voice is central to our planning and implementation. Because Public Works is firm in its stance on community input, I felt my impact here would be much more community oriented than any other firm in our industry.
2. What was the initial catalyst that ignited your passion for your field of work?
During my undergraduate education, I volunteered for an organization that focused on providing those within our community without housing and resources with food and other necessities. During one of our regular outreach nights, a police officer informed us that it was against city ordinances to distribute food without proper licensing from the city. This ordinance, though established to protect the community from improperly prepared food, was limiting our ability to aid those in need. I realized then that public policy must be properly constructed to ensure that the most good can be achieved. Ever since then, I've been drawn to the idea of how we can best prepare public policy to ensure it does not have unintended consequences.
3. Are there any issues that you are particularly passionate about tackling in your role here?
Here at Public Works, I find our projects focusing on infrastructure and urban transportation particularly interesting. These projects provide communities with the means to be connected to each other, expand access to public goods, and means for success. Specifically, transportation projects focused on improving green spaces and reducing pollution, such as bike lanes and river walks, are some of my favorite projects to work on.
4. What does continuous learning mean to you, and how do you embrace it in your work?
For me, continuous learning is about evaluating your current understanding and finding knowledge gaps. It's great to know what you do not yet know! When it comes to how I embrace continuous learning in my work, I aim for projects and assignments where I feel about 75-80% confident with the material at hand and 100% confident in my ability to learn and grow to obtain the remaining 20-25%. Working in areas where you believe yourself to be a bit more limited is the best way to fill your knowledge gaps, learn, and grow both professionally and personally.
5. How do you personally connect with our mission and values?
Having had the opportunity to live in so many different communities, whether they be rural, medium sized cities, or New York City, I've had the importance of community involvement and equity imprinted on me. Regardless of the community, the most successful projects have a common thread: community involvement. Because of this, Public Works Partners feels like a perfect fit for me. Our firm is dedicated to ensuring those who will be affected by a project have a voice in said project. Because of this, I fully connect with our values and approach to improving the communities we live in.
6. How do you stay informed about the latest trends and best practices in your area of work?
Working in public policy, it's a given that things will change quickly; and you must adjust and incorporate the changes into your thinking and understanding of these topics and practice areas. To stay informed as best I can, I turn to a variety of sources. I'm an avid news reader, starting every morning with a few articles from the New York Times, NPR, and the Economist. Podcasts are another great way to stay informed even while on the move (I highly recommend any podcast from NPR). Finding sources and experts I trust and whose opinions I value has helped me stay up-to-date on the ever-changing landscape of public policy.