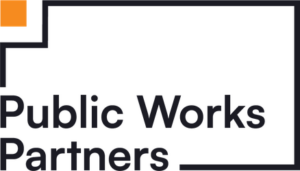 Pasadena, CA (June 7, 2023) – Public Works Partners, a WBE/DBE/SBE certified urban planning and management consulting firm, has announced the opening of their new West Coast office in Pasadena, California. The firm's West Coast office will be housed in Spaces Pasadena in the historic and vibrant Playhouse Village district and steps away from the iconic Playhouse Theater.
Public Works Partners was founded in 2010 out of a desire to bring the tools of management consulting to community-based organizations to increase their positive impact. This expansion to the West Coast marks a significant milestone for Public Works as the firm establishes roots on both coasts to help civic leaders enact their visions for healthy and equitable systems and spaces.
"We are thrilled to bring our strategy for good to the West Coast and be part of the vibrant Pasadena community," said Celeste Frye, co-founder and CEO of Public Works Partners. "Our decision to make Playhouse Village our home was a thoughtful one, driven by the district's rich history, diverse cultural facilities, and robust public art collection."
Headquartered in New York City, Public Works Partners continues to play a key role in advancing high-profile and integral projects shaping New York City and beyond. The new Pasadena office will allow Public Works to serve its West Coast clients, such as the Conrad N. Hilton Foundation and the City of Portland, Oregon, and build deeper relationships with local public agencies, nonprofits, workforce development providers, and other organizations committed to improving the lives of the communities they serve.
"It's a privilege to lead our firm's urban planning practice, called Community Health, from within a city I know and love," shared Melissa Lee, principal at Public Works Partners and longtime Pasadena resident. "Having a physical presence here in Pasadena will allow us to connect with our West Coast clients in their own communities, better understand the integral nuances of working with different local groups and forge new relationships."
Public Works' Community Health practice focuses on creating stronger neighborhoods through planning, placemaking, economic development, and community engagement. The firm also partners with nonprofit organizations and public agencies to reimagine how services are delivered, improve organizational capacity, and increase impact as part of their Organizational Health practice, spearheaded by Public Works Principal Allison Quigney.
"We design solutions for our clients that not only enhance service delivery and drive organizational excellence but also have a profound impact on the communities they serve," noted Quigney. "Having a presence on both coasts provides us with a strategic advantage, allowing us to accomplish these objectives more effectively and efficiently."
"This is an exciting move and time for Public Works Partners," said Moe Magali, Director of Business Development at Public Works Partners. "We look forward to bringing our tools, methods, and transformative urban planning and management consulting solutions to the West Coast."
Public Works Partners is located at 680 East Colorado Boulevard, 2nd Floor, Pasadena, CA 91101. They can be reached at 347.619.2892 or by visiting www.publicworkspartners.com. For the latest news and updates, follow @WeArePublicWrks on Twitter and @public-works-partners on LinkedIn.
About Public Works Partners
Public Works Partners believes in strategy for good. The WBE/DBE/SBE certified planning & consulting firm, working closely with a network of community-based organizations at the neighborhood, city and state level, captures credible input organically, analyzing and synthesizing findings into actionable data that leads to increased impact. Using a mixed-methods approach, Public Works Partners connects with community members where they are to ensure that audiences too often marginalized are heard. The firm's research and analysis can inform future programs, facilitate strategic planning processes, build stronger teams and streamline organizational operations for greater success. For more information, visit www.publicworkspartners.com.
Press Contact:
Kelly Lee
Co-Communications
914-666-0066
klee@cocommunications.com