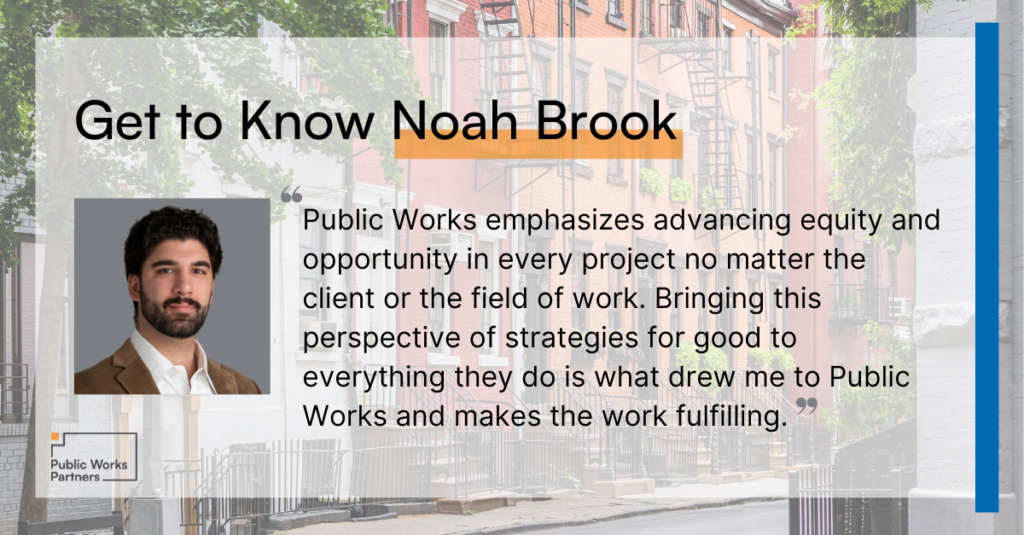 In this interview, we sit down with Manager Noah Brook, a dedicated advocate for criminal justice reform and equitable urban development. Noah's journey to Public Works has been shaped by a profound sense of purpose and a commitment to enhancing the fabric of communities. Drawing from his experiences working with a nonprofit providing alternatives to detention and incarceration, Noah shares how he came to realize the pivotal role that organizational health plays in delivering improved public services. At Public Works Partners, Noah now applies his data-backed strategies to empower non-governmental, nonprofit, and city agencies to translate their aspirations into tangible outcomes. With a glimpse into his passions, influences (some musical), and aspirations, Noah invites us to explore the interconnected worlds of organizational health, criminal justice reform, and his vision for a transformed urban landscape! 
How would you describe your journey through organizational health?
My first job after college was working for a non profit that provides alternatives to detention and incarceration. In my two years working I saw how important these types of organizations were to the communities they serve but also how important organizational health is to being able to provide the best possible services. I came to organizational health because it felt like the way I could have the greatest impact on organizations that serve the city I love and have called home my whole life.


You have a strong background in criminal justice reform – what drew you to this field?
When I was in middle school my mom went back to school to become a social worker and has since served as an advocate for parents who have had their children taken away from them by the family court system. For me, her decision dramatically shaped how I defined purpose in my career. I knew I wanted to have a positive impact in whatever I chose to do. Through both my undergraduate studies and an internship with the Orleans Public Defender I saw some of the ways the criminal legal system is intentionally broken and unjust which drew me toward working in the field.


Based on your background in criminal justice reform, how do you personally find your work at Public Works fulfilling?
Two core principles of criminal legal reform are creating equitable systems and expanding opportunity for communities that historically have been marginalized by draconian and racist systems. Public Works emphasizes advancing equity and opportunity in every project no matter the client or the field of work. Bringing this perspective of strategies for good to everything they do is what drew me to Public Works and makes the work fulfilling.


If you had unlimited resources to solve a major urban issue, what issue would you tackle and how would you approach it?
We have a once in a lifetime opportunity approaching within this decade, with the expected closure of Rikers Island, to reimagine the function for an enormous swath of land. With unlimited resources it would be hard not to choose to use this opportunity to address one of New York City's most pressing issues, affordable housing. I would choose to reshape the island into our city's newest borough with affordable housing, access to jobs with livable wages, and availability of public transit connecting the island to the other boroughs.


What's the most interesting or unusual project you've worked on in your career?
In my final year of graduate school I had an amazing opportunity to produce original research for the Center for Just Journalism on trends in crime reporting. We studied the frequency at which law enforcement and non-law enforcement sources are quoted in stories, as well as the viewpoints expressed by different source types related to policing, adjudication, incarceration, and other strategies to address crime. It was a year long process for me and my teammates who got to take ownership of crafting a research idea and putting it into action. Seeing our collective passion transform from an idea into a concrete research project that could inform future work was great to experience.


What songs are on heavy rotation in your summer playlist?
This is a hard one because I love so much music but I'm still not over how much I enjoyed the most recent Guardians of the Galaxy Movie so I have had "In the Meantime" by Spacehog and the acoustic version of "Creep" by Radiohead on repeat. I've also been biking a lot this summer so "Int'l Players Anthem" by UGK and Outkast  and "Control" by Emmit Fenn have been my get up that hill songs. I'm not a country fan but "Ballin" by Rvshvd needs a shout out too.