In the face of growing pressures from employees and communities for greater transparency in governance matters, philanthropy stands as a neglected domain within corporate operations. 
Did you know that corporate donations in the United States alone are believed to have surpassed $21 billion in 2021? While corporations commit billions each year to benefit the public, a significant number of them are failing to fully harness the potential returns on their acts of generosity.
Aligning Business and Social Impact 
Hence, aligning your business and social impact is crucial in today's corporate world as it not only fulfills a company's ethical responsibility but also offers tangible benefits. It enhances a company's reputation, builds customer trust and loyalty, motivates employees, and nurtures positive relationships with various stakeholders. Ultimately, businesses that integrate social impact into their strategies not only contribute to the greater good but also position themselves for long-term success. 
The Role of Corporate Philanthropy and Best Practices 
Well-designed and thoughtfully implemented corporate giving initiatives can provide your business with a competitive edge. This could include incorporating matching donations, volunteer assistance grants, and direct nonprofit sponsorships. This approach provides your staff with diverse avenues for participation and enhances overall engagement.
 Such programs have the potential to:
Enhance your company's visibility and recognition in the market.
Elevate your company's brand reputation among consumers.
Improve the well-being and quality of life in communities where your company operates.
Streamline your endeavors in recruiting and retaining highly skilled employees for your organization.
Result in heightened sales and foster positive consumer sentiment as news of your company's philanthropic endeavors spreads.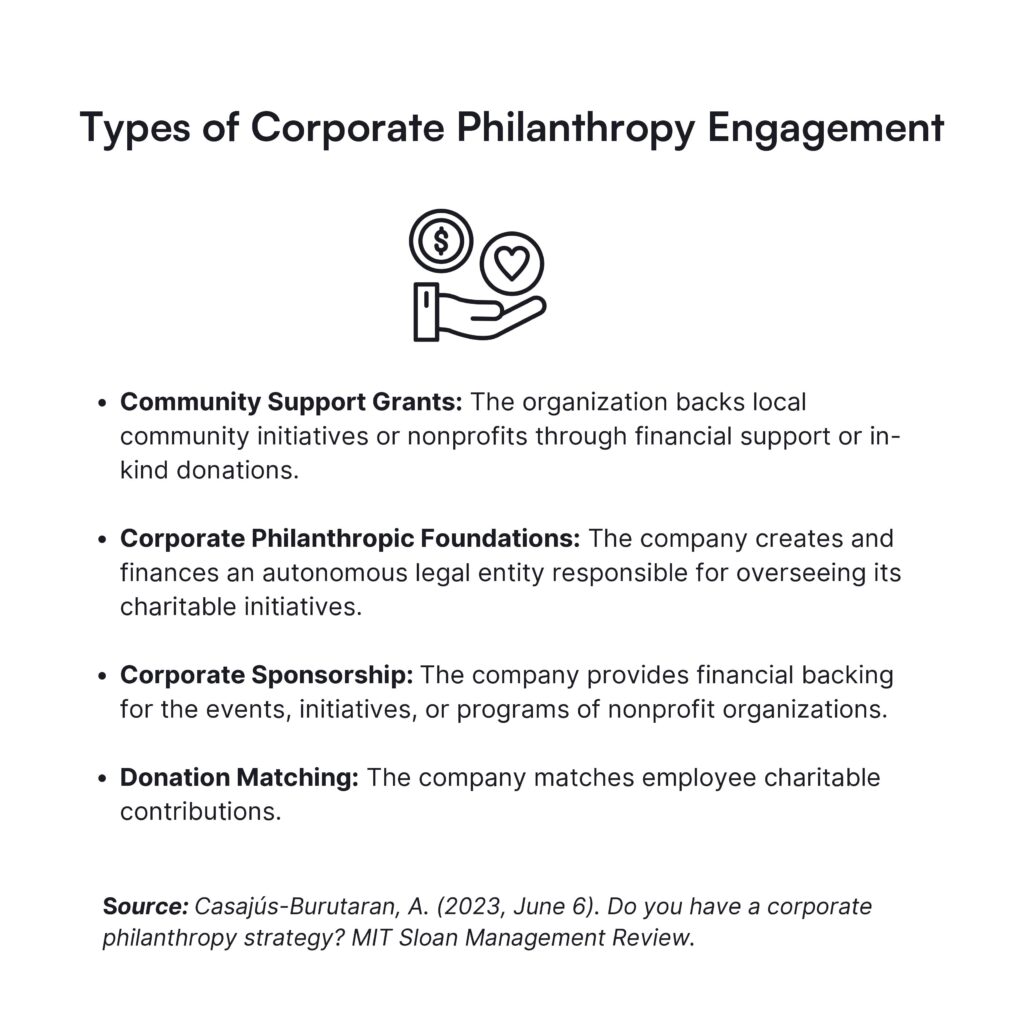 Corporate Philanthropy in Action
While conducting my research, I stumbled upon a corporate philanthropy case study that kickstarted transformative actions right within their organization: Penguin Random House's Student Loan Reduction program. Penguin Random House assists its employees in repaying up to $1,200 in student loans annually.  The accumulated national college debt stands at a staggering $1.5 trillion, and it is highly likely that this debt burden affects your workforce too. By assisting with their financial well-being, you create a compelling incentive for them to participate. 
Another inspiring example is the Nike Foundation's Community Impact Fund (NCIF), which invested over $400 million between 2015 and 2019 to support  education, leadership training, youth empowerment, and mentoring. In addition, Nike's global initiative, "Made to Play," aims to encourage more children to engage in outdoor activities. Nike collaborates with local organizations to provide coaching education for female athletes and expand sports access for underprivileged girls. In the 2020 fiscal year, it is estimated that the corporation allocated more than $23.2 million to this specific project and over $89.8 million to various projects in its impact portfolio.
Furthermore, Study.com, an online education platform introduced the Keys to the Classroom initiative in 2022 with the aim of tackling teacher shortage in the United States and to foster greater diversity in the teaching profession. Through this program, Study.com is generously providing one year of access to its online test preparation courses, valued at $720, to individuals from underrepresented communities who aspire to pursue a career in teaching. 
Regarding employment opportunities, Chobani initiated a program that promoted the employment of Venezuelan refugees by its suppliers. And Slack expanded its training program for people with previous incarceration experiences. All of these examples portray the diverse approaches corporations take in their philanthropic engagement. 
More importantly they serve as a reminder that corporate philanthropy is not just a charitable endeavor; it's a strategic use of a company's resources, expertise, and reach to drive meaningful social change. By mobilizing their strengths, corporations can create a ripple effect that extends beyond their immediate sphere of influence, leaving a lasting mark on the communities they touch.